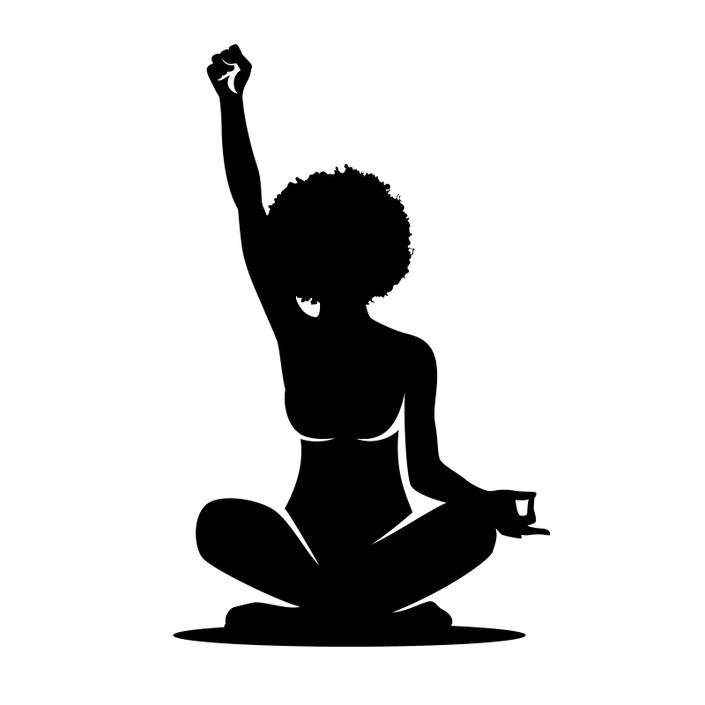 All-Access Membership
Are you on a journey to learn more about holistic health and well-being?
Do you feel a calling to heal and explore your inner Self more deeply?

Are you drawn to Yoga but feel uncomfortable in most Yoga spaces?

Do you crave a higher knowledge of Yoga beyond just body poses?

Are you committed to evolve your Self through disciplined education?
If you answered "yes" to even just one of these questions, then the Soul Liberation School of Holistic Wellness is for you! Continue reading to learn more!
Frequently Asked Questions
Why did you create this virtual school?
The primary reason I created this platform is to educate Black folks and BlaQue (Black+Queer) folx in the areas of Yoga and other forms of holistic wellness. These are two of the countless populations that are underrepresented (if seen at all) in mainstream Western Yoga spaces. Rather than fight my way into a space not big enough for me, I created my own. I intentionally developed this virtual school to honor and uplift those who look like me, who exist and experience the world like me. For those who too often go unseen, it is imperative that we have spaces where we are not only visible, we are the center of attention.
I also feel it is imperative to teach Yoga beyond the poses. In our body-centric society, Yoga is seen as just another form of exercise. But there is much more to Yoga than just the physical; it is actually a system of achieving Self-realization. This truth gets lost in most studios, which focus 99% on just doing poses. I wanted a platform where I could help students go deeper into exploring both Yoga and themselves, and one hour weekly classes simply wasn't sufficient to achieve that goal.
What are the benefits of a virtual platform over a physical studio?
The short answer is better accessibility, better time management, and more bang for your buck. You'll be able to choose from a wide array of lessons that are ready-to-go whenever it fits your schedule. You can practice at your own pace, focus on the areas you prefer, and build your own unique wellness practices. And for those who do attend physical classes regularly, the lessons in this school will serve as an incredibly strong supplement to your Yoga and holistic wellness education.
This virtual school is particularly beneficial for those who may not have access to a physical studios, or who find a lack of diversity in their local instructors. The advantage for me as a teacher is that an online platform gives me the opportunity to reach more people than I would with my own local studio, and I gain the freedom to provide more lessons and information than I ever could in traditional classes.
There are other virtual Yoga and wellness options out there...why should I choose this one?
I teach as my most authentically genuine, socially conscious yet humanly flawed, natural Self. Many instructors present an air of false perfection and forced positivity, which can limit human connection and hinder transformative growth. Likewise, many wellness leaders and spaces that strive to "not see color" are blind to how race---alongside gender, sexuality, nationality, class, etc.---deeply impact how people are treated in this world. To trivialize such matters is a major disservice to students. I believe that we need more socially conscious and culturally informed methods of Self care that honor---not ignore---intersectional identities, and hold space for human imperfections. To do this, we must bring our entire being with us wherever we are and in whatever we do. I bring all of the flavor of me to my teachings, which makes me real and relatable to my students.
I know that my school is not for everyone, and that is okay because it does not need to be for everyone. What's important is that I am here for the ones who need and want what I have to give. And only you can decide that for your Self.
If I am not Black or queer identified, can I still join?
YES! Anyone can be a student of this school! And I encourage any person who wants to join, regardless of their identity, to do so. While I make it very clear who my lessons revolve around and the lens through which I teach, everyone is welcome to look through that lens with me. So if you are a person interested in learning about Yoga and other healing, wellness, and socially conscious topics from a "woke" Black, queer perspective, who honors and understands the necessity of such a space in our current cultural-political climate, and who is able to respect and hold space for these intersectional identities, then please join!
What styles of Yoga movement do you teach, and is previous experience necessary?
I specialize in Kemetic Yoga, an African-Egyptian style of Yoga, and modern Hatha Yoga, the (now Westernized) system of Indian Yoga that focuses on asana (pose) and pranayama (breath work). My flow style is specifically slow-spaced with an emphasis on conscious deep breathing and controlled body movement. One of my main goals as a Yoga educator is to introduce Yoga to novices and help them build confidence in learning about the many systems and poses. No experience is necessary, because I aim to help you gain the experience that best suits you and your needs!
However, if you are an experienced Yoga practitioner or teacher, you can still benefit from membership. My lessons can serve as refreshers on current knowledge as well as lead to learning new information, which instructors can use in their own practices and teachings.
Does your school offer trainings or certifications?
At this time, I do not offer any formal training or certification programs. This school is intended solely for expanding one's knowledge in holistic wellness modalities.
For those seeking certification, use these lessons to help determine where your focused interests lie. If you are already enrolled in a certification program, this school is a good complement to that goal. Feel free to use the lessons to supplement your training education!
I'm feeling this and want to join! How much is membership?
All-Access Membership to my virtual school is an affordable cost of only
$25 a month.
This comes to less than $7 a week for MULTIPLE lessons versus $10+ for just ONE brick-and-mortar studio class! The amount you pay each month is directly invested into expanding your education. My role as your teacher and guide is to continuously acquire more knowledge and skills that I can provide to you as my student. You will have unlimited access to a constantly increasing catalog of lessons for as long as you're a member.
If the monthly membership is still beyond your individual budget, consider splitting the cost with friends or family. Note that with shared accounts, there will still be only one name/email/credit card attached, which is of the primary user. Also, the primary user will be held accountable for all activity and interactions done on the account, so make sure all members use the account responsibility!
Still not able to join? No worries, you can still benefit. All third-party lesson content that is publicly available, such as articles or embedded YouTube videos, can be accessed for FREE!
If I change my mind about membership, what is the cancellation policy?
You can cancel your membership at any time. Simply make adjustments in your account profile settings under "Manage Subscriptions." When you cancel your membership, you will still have access to your lessons until the last day of your current cycle. And you can re-enroll whenever you're ready.